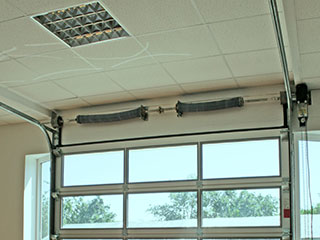 How Do Torsion Springs System Work?
Garage doors move thanks to springs. Garage door torsion springs are common for most residential doors and are placed over the door and usually around a shaft. The spring turns on one side where there is a winding cone and doesn't move at the other side where there is a stationary cone, and the spring is secured to an anchor bracket. The spring manages to open the door with the help of cables. The fast movement of the spring is transferred to the cable, which is wrapped around the drum and is attached at the bottom door bracket since the shaft is connected with the two drums. The cable is pulled up and so is the door. Most doors need one torsion spring, but they can also have a second one for higher protection, should the first one breaks.
Our Torsion Spring Replacement Skills Are Excellent
All services related to torsion springs are important. When they are weak and have not enough tension, the door won't open. If they are ready to snap, they might cause injuries or damage to the property. We fix garage door torsion spring problems. In fact, Garage Door Repair Land O' Lakes is fast when you call for torsion spring services. We offer full garage door torsion spring repair services including their installation and replacement. We adjust them as soon as we can in order to add tension and make sure the door will be balanced and open properly.
The Right Size Torsion Spring Is Important
You can count on our company when you need to replace your torsion spring. Our repair specialists are at your service if you don't know what size of spring you need. Having the right size spring is of the essence. Getting the right type of torsion spring is equally vital. There are differences among them depending on the manufacturer and the application they are designed for. Rest assured that we service Clopay torsion spring systems and springs produced by any other manufacturer, are emergency spring service technicians and excellent in our work. Email us if you want more information about your torsion spring garage door system.
Need more? We also provide:

New Garage Door Keypads

24 Hour Garage Door Service

LiftMaster Chain Drive Lubrication

New Garage Door Installation