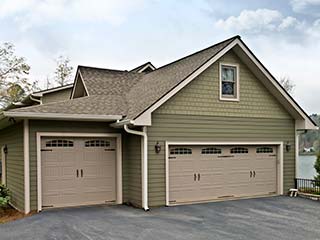 Clopay Carriage House Garage Doors with Different Makes, Designs and Structures
Five of the brand's collections offer models in this particular classic style. The units are made to resemble genuine carriage house doors that open to the side. They feature a set of handles in the center. At the same time, they operate in the same way as all modern overhead doors:
The brand's Canyon Ridge collection offers doors in carriage house style which are made from steel and have faux wood overlay. This gives them the appearance of genuine wood doors and the durability of modern steel units. They have a five-layer construction and come with the brand's Intellicore insulation material which is polyurethane foam.
The Coachman collection models are designed to look exactly like authentic carriage house doors, which have crossed wood decorative boards. The units have a four-layer construction. You can choose between steel and composite make and between Intellicore insulation and polystyrene panel insulation. There are panels with different thicknesses to pick from.
The Grand Harbor collection features classic style models with flat panels. They can be made from steel or composite material. It is possible to select from two-layer and three-layer construction. The insulating material available for these models is polystyrene.
The classic steel doors from the Gallery collection have grooved panels with short and long panel design options. Choose between structures with one, two and three layers. The insulation options include Intellicore polyurethane and polystyrene.
The Reserve Wood collection features Clopay carriage house doors made from wood. The models come with polystyrene insulation. There is a choice between different types of wood including cedar and fir.
Back to Garage Door Repair Services