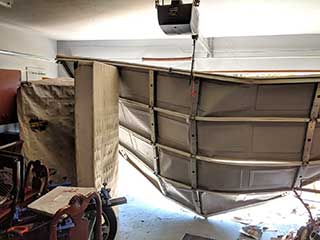 There is so much that can go wrong with your garage door over time or without warning. With so many bits and pieces that make up the system, it can be hard for you as the individual to pinpoint exactly where the problem may be. At Garage Door Repair Land O' Lakes we have all the skills, stock and expertise necessary to get your doors up and running in no time. So instead of pulling things apart and having a go at it yourself, take a look at the services our business has to offer, and give us a call to come and have a look at it for you.
Fast Response Time to Emergencies
So, what is considered a garage door emergency? Imagine you come back home after work. You drive your car, press the remote and – nothing happens. The door won't budge, and your car is out on the street. Little did you know, your spring had enough. Nothing to worry about! Give our experts a call and our team will be on its way to replace your spring! You can always trust our same day service. There are all sorts of things that could go wrong – and we are proud to take care of them all.
Broken Garage Door System Repaired
Garage door repairs are not always a straightforward thing since the malfunction can occur in any one of the major parts that make up the whole of the garage system. You could be wasting your energy fighting with your remote if the motor, track or springs are not working. An amateur could spend days trying to pinpoint the problem, and still meet with no success The first step in mending broken garages is diagnosing where exactly the problem is. Sometimes this is obvious and immediately noticeable, but other times, parts can break that are a little more latent, which can cause major frustrations for the owner if he or she doesn't know what they're looking for.
Garage Door Off-Track
Have you backed into your garage door on the way out of the house? If your garage door is off track, and too heavy or complicated to realign by yourself before rushing off to work, we are here to help. If the track itself is in need of repair or complete replacement, our team are willing and able to offer assistance to you, to make sure that everything is working the way it should, as quickly as possible.
Garage Door Parts Replaced Fast
Broken spring replacements, tracks, parts, frames and doors are no big deal. Whatever problem springs up, if you don't have the time to deal with them, don't worry, we do. With us you'll not have to worry about the security of your house, nor being late for that meeting you were rushing out to when you knocked your garage door down.
So if you're in need of minor or serious garage door repairs, give us a call or take a look at our website. Contact our technicians for expert advice and service, we guarantee to take the stress out of early morning emergencies and late evening nightmares.