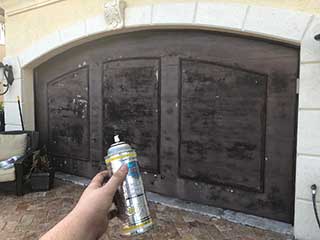 Just like any other mechanical device, your garage door requires a regular tune-up. Remember garage doors open and close thousands of times every year. As a result, the gears and chain that open and close your garage door experience wear and tear. If you fail to carry out regular maintenance, your garage door will become noisy and may eventually fail to open or close. The good news is it is easy to carry out a garage door tune-up using readily available tools at home.
Here are some tips to get you started:
Inspect the Nuts, Bolts, and Rollers

Before you can think about tuning up your garage door, it is advisable to carry out a thorough inspection first. First, unplug the automatic opener to ensure that you or someone else cannot activate it accidentally. It is advisable to clamp locking pliers into the roller track if you plan to inspect and work on your door while it is open. Proceed to inspect and tighten any loose nuts and bolts. While at it, inspect the rollers because they generally tend to crack. If they appear defective, replace them with new ones. You can get replacement rollers from a hardware store. Finally, inspect the lift cable for signs of wear and tear. Use an old toothbrush to clear dust and grime that might have built up around it.

Inspecting and Maintaining Springs, Seals, and Chains

Use grease to lubricate the door chain. If you have lithium white grease at hand, the better. Do not forget to lubricate the overhead torsion springs. Avoid the temptation to wipe away excess grease. Instead, leave it there.

Replacing a Damaged U-Shaped Astragal

Inspect the weather seal (U-shaped Astragal) at the bottom of the gate. If it has suffered damage, use a screwdriver to open the channels that hold the weather seal in place. Lubricate the channels with silicone spray and slide in a new seal.

Testing your Garage Door

After finishing the tune-up, test the door. This includes testing the auto reverse feature and the release handle. Finally, you may add photoelectric eyes and a containment cable as safety features for your garage door.